About Webkinz Jr
Webkinz Jr. pets are lovable plush animals that each come with a unique Pet Code. Parents can use that unique code to access an online world for their child. Webkinz Jr is the preschool version of the lovable Webkinz and is geared to children age 3-6.
Your preschooler not only gets a cuddly friend to hold and love but they also get to bring that friend to life. Webkinz Jr is a safe environment for your preschooler that offers fun and educational games designed to encourage pre-reading and math skills, stimulates creativity, and build your child's computer skills!
What Winner Will Get
One Webkinz Jr plush toy like the adorable ones shown below. Aren't they too cute?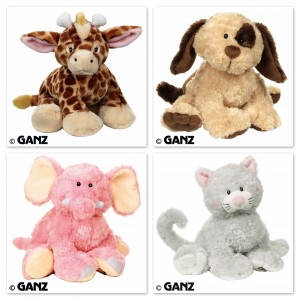 How To Win
Come back and enter our Blogmania giveaway on September 15th-16th, 2010.
Follow WebKinz Jr.
Site: http://www.webkinzjr.com/
Facebook: http://www.facebook.com/WebkinzJr
Follow Blogmania
Blog:
Facebook: http://www.facebook.com/Blogmania
Twitter:
Early Entries
As a regular reader, I am offering you a chance to get some bonus entries. All of these offers will expire once Blogmania starts so get your extra entries in now. If this is your first extra entry, make sure you check out all our early entry options here.
Follow Webkinz Jr. on Facebook and then post the following to their wall.
I'm following thanks to Tim And Angi's Blog & looking forward to BLOGMANIA on Sept 15 https://timandangi.com/tag/blogmania/
After you have completed these tasks, fill out the entry form here and use the Bonus Code WJF. Remember the information you use on this form will be matched to your mandatory entry when Blogmania comes around in September so make sure you use the same email throughout all entries.
Make sure you subscribe via RSS or email to get all the benefits of being a regular reader. Or follow us on Twitter or Facebook.