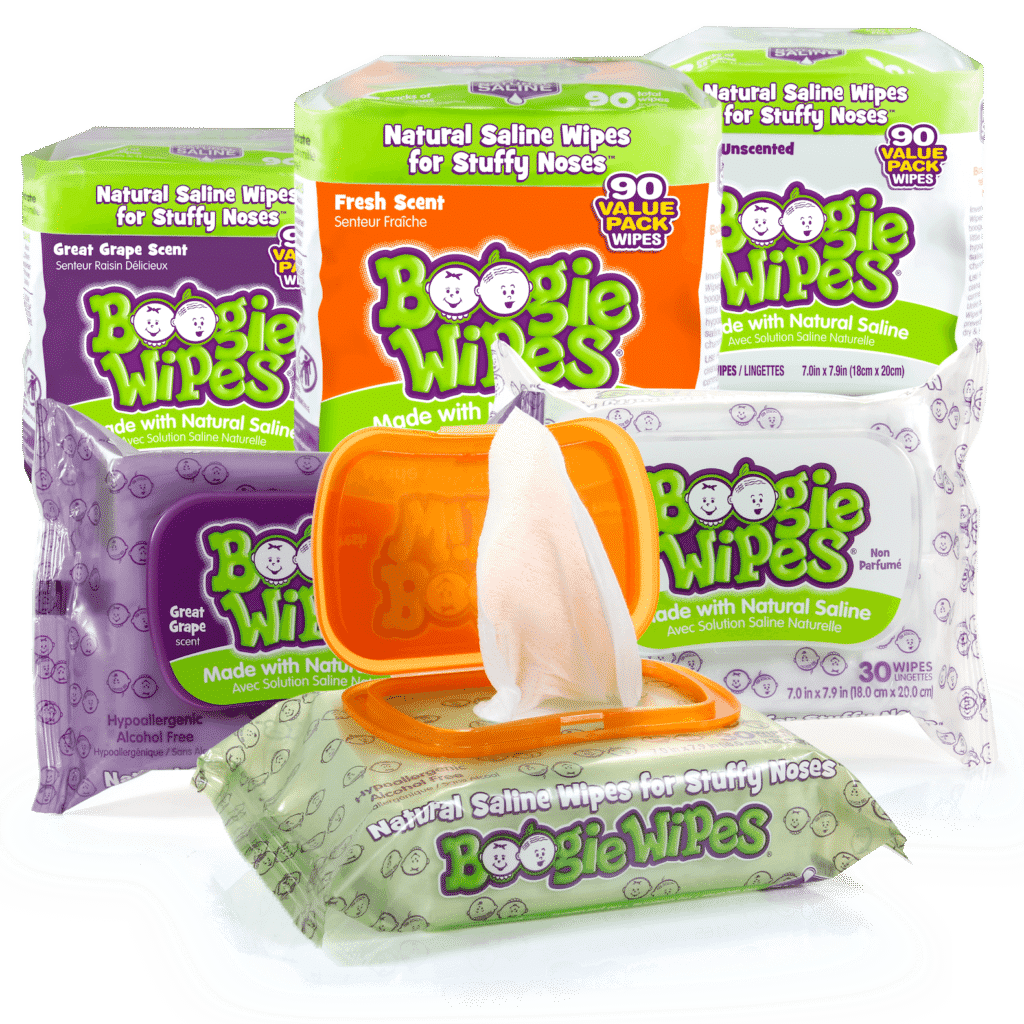 About Boogie Wipes
Boogie Wipes® saline nose wipes are made with saline to dissolve boogies (mucus) caused by the common cold, allergies or otherwise booger-filled kid moments. Extra soft and scented in Great Grape, Fresh Scent, and Simply Unscented. Boogie Wipes® saline nose wipes are recommended by parents and pediatricians as a gentle, effective alternative to a dry tissue.
As a Saline Brand Ambassador, we are here to keep you up to date on Little Busy Bodies products. Little Busy Bodies is the company behind Boogie Wipes and Saline Soothers. If you are constantly chasing running noses then you'll certainly want to try Boogie Wipes which are geared to the younger kids and Saline Soothers which are geared for older kids and adults.
Part of our ambassador duties is to host or attend events and share product samples with event attendees and I thought what better way to share than to host a giveaway. That's right… We're going to giveaway some of the full size products we received to our readers.
Where To Buy
In case you don't win or you become a Boogies Wipes fan, you can purchase them directly from Boogie Wipes or from Amazon, Walmart, Target and many other major retailers.
Follow Company
Boogie Wipes
Site: http://www.boogiewipes.com
Facebook: http://www.facebook.com/boogiefans
Saline Soothers
Site: https://www.salinesoothers.com/
Facebook: http://www.facebook.com/SalineSoothers
The Giveaway
We will be giving away two saline packages to two separate winners. The first saline package will contain a 30 count of Boogies Wipes plus a few surprise extras. The second saline package will contain a 15 ct of Saline Soothers plus a few surprise extras.
This giveaway is open to US residents only. We will notify the winner by email. If the winner doesn't respond in 48 hours, a new winner will be chosen.

Disclosure
: This post brought to you by Little Busy Bodies. Our family received product for free in exchange for an honest, unbiased review. Giveaway policy
here
. All opinions are 100% mine.