Math Blaster Review & Giveaway
Sponsor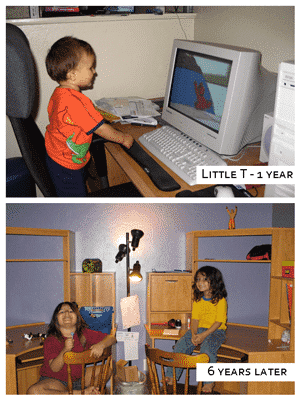 Welcome to our first review and giveaway during the Treasure Chest Giveaway. A few years ago, Tim and I stumbled across a fantastic deal for a JumpStart preschool game for the boys. I recalled all the fun I had on the computer when I was young so we bought the game. Coming from tech parents, our boys were already interested in the computer and had played at a few online sites geared to toddlers.
Little did we know that impulse purchase would lead us to find a HUGE online world for our boys to learn and explore in complete safety.
Math Blaster is the recently launched sister site to JumpStart. JumpStart covers lots of educational games while Math Blaster primarily covers math. I first learned about Math Blaster through JumpStart before it's launch. I read the announcement to the boys and they were ecstatic about this new area. They literally played all day the first day it launched. They were shooting aliens and chatting with each other during the day about this great new world. Little T and Drama King are good at addition and subtraction with small numbers but with these games, they have increased their confidence with slightly bigger numbers.
We have a Lifetime Membership to Jumpstart which includes access to Math Blaster. I always recommend signing up for the free version but be ready to get a membership because your kids will seriously fall in love with playing on and offline. Yes, with your membership you get access to four downloadable games. That means that with membership, your kids will have access to 1000s of additional fun-filled customizable games that teach everything from keyboard skills to multiplication! Math Blaster games are based on 1st – 6th Grade curriculum.
The only downfall that I have noticed is that the online world can take a while to load so I would not recommend it for older computers or slow internet connections. Even in the rare event that the site loads slow, our boys still sit there eagerly waiting to play.
Oh and did I mention that each membership covers not one, not three, but up to six kids. SIX!!!
Where To Buy
You can sign up for a free account at Math Blaster or JumpStart and get access to both worlds. However, your kids will probably have so much fun that they will quickly request a membership. And at a mere $7.99 a month, you'll be investing in your kids education and keeping them entertained at the same time. Sure your kids will be blasting aliens but they'll also be learning addition, subtraction, multiplication, and division. And that's only in one of the online games. Imagine what else they can learn with access to JumpStart and the four downloadable full-length retail games.
And don't forget that you can save over $20 a year by getting an Annual Membership or a ton more if you get a Lifetime Membership.
You can also buy Math Blaster games for your Nintendo DS.
Follow Company
Sign up to play Math Blaster for free. Who doesn't like free? Visit their sister site, JumpStart, for even more free games. And for our iPhone readers, you can download their mobile apps on iTunes.
Giveaway
Knowledge Adventure has generously agreed to provide a three month membership to one lucky reader.
This giveaway is open to everyone and ends July 15th. Winner will be selected using And The Winner Is… plugin. We will notify the winner by email and at the bottom of this post. If the winner doesn't respond in 48 hours, a new winner will be chosen.
How To Enter
Leave a comment and tell us what membership perk you're the most excited about trying out with your kids.
Extra Entries
And don't forget that you can also get lots of other entries from the Treasure Chest Giveaway introduction post. Just be sure you come back to this post to leave your comments.
And The Winner Is…
An email will be sent for each of our Treasure Chest giveaway winners once we have drawn for all prizes.
Disclosure
: This post brought to you by Knowledge Adventure. Our family received product for free in exchange for an honest, unbiased review. Giveaway policy
here
. All opinions are 100% mine.