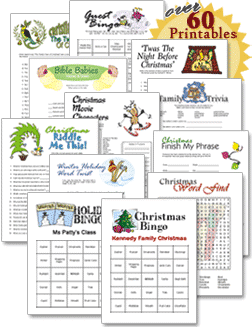 PrintableGamesAtoZ.com offers a large number of printable games for parties to holidays. You get unlimited prints of an entire package of games for 90 days (one year on non-seasonal packages).
At first, I was taken back by the 90 day print policy. My initial thought was if I pay for the games, I'd like to print them out at any time. Then, I started thinking about it. How often would I truly print out a Christmas game in April? 90 days in more than enough time to plan and print out copies that I'll need. Plus, I can set one aside as a master copy.
After coming to terms with the day limitations, I skimmed through the vast collection of winter games. While some of the are Christian themed, a large number of them can be used in any setting. I printed out some of them and set them aside for the holidays.
I was quite impressed with the Bingo Generator that created as many unique cards as I needed. Some of the games can be customized with your own text and/or words.
Where To Buy
Buy the complete set of Winter Holiday Games now for only $19.95 for over 60 games. That's less than 50 cents a game plus you can print as many or as little copies as you need.
Disclosure
: This post brought to you by Funsational. Our family received product for free in exchange for an honest, unbiased review. All opinions are 100% mine.