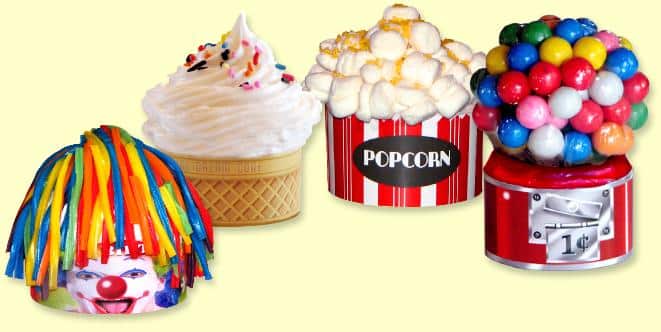 About Roundabouts
Using toppings easily found at a grocery or local party supply store, our decorative self-adhesive cupcake wrappers instantly transform cupcakes into popcorn tubs, gumball machine, sushi, and ice cream cones. Our wraps are resistant to grease an oily substance, are earth friendly, and wipe clean if things get a bit messy in the kitchen! We've even had customers wash and re-use them, adhering a second time with a dab of frosting.
Tim and I decided to tackle the cupcakes together. I frosted and he wrapped the sleeves around the cupcakes. The sleeves were a tad bit taller than some of our cupcakes which made it a little difficult to get the wraps around the cupcakes.
The finished wrapped cupcakes are sure to be the center of attention. Although the price is a little high, the sleeves can be reused if you wipe them off and use a little icing to close the sleeves the next time. If you combine the wrapped cupcakes with a standard cake, you can create an unforgettable dessert table that looks professionally made.
Where To Buy
You can purchase Roundabout Sleeves directly from Roundabouts.
Follow Company
Site: http://www.roundaboutsleeves.com/
Twitter: http://twitter.com/RoundaboutWraps
The Giveaway
Winner will receive one package of Roundabouts® sleeves in their choice of style. Giveaway is open to U.S. residents only and ends on Feb 5, 2011.
How To Enter
Visit Roundabouts site and come back here and leave a comment with your favorite Roundabout design(s).
Extra Entries
Follow Roundabout on Facebook and post the following to their wall "I entered to win my own set of cupcake sleeves from Tim And Angi's Blog. You can enter at. https://timandangi.com/roundabouts-sleeves-review-giveaway/"
Follow Roundabouts on Twitter and tweet the following "Win @RoundaboutWraps Cupcake Sleeves to dress up your next party from @amboutwe and @nonparity You can enter at https://timandangi.com/roundabouts-sleeves-review-giveaway/"
And the winner is…
Lucky comment number 13 was randomly selected which is Katherine Hassenboehler.

I guess lucky comment #13 wasn't so lucky for Katherine as I have not been able to get in touch with her so we're sadly drawing another name.
Come on down, Mellissa C. Maybe #16 is luckier than #13. An email is on it's way to Mellissa. Hopefully, this email can gather all that oh so important information and get it back to me.

Disclosure
: This post brought to you by Tomoson. Our family received product for free in exchange for an honest, unbiased review. Giveaway policy
here
. All opinions are 100% mine.