Over on Facebook I saw a group of bloggers chatting about Author Rank after reading this post on SEOMOZ. I took a few minutes to setup my Google Plus profile image—something I've been putting off for a while now—and linked my contribute to section to the few places where I write. I also linked my blog email to my profile in hopes that anywhere that I write with that email will be added to my Author Rank. With this being so new I'd thought I'd share what I found with you so you can say "Oh, AuthorRank. I heard of that a while ago and already did it." Being ahead of the curve is fun!
What is Author Rank?
Many years ago Google filed for a patent for "Agent Rank". Here is how Google described agent rank.
The identity of individual agents responsible for content can be used to influence search ratings.

Assuming that a given agent has a high reputational score, representing an established reputation for authoring valuable content, then additional content authored and signed by that agent will be promoted relative to unsigned content or content from less reputable agents in search results.
Basically it boils down to this: Rank authors based on the content they create and use the ranking to increase or decrease the position of their content in search results.
Why Should I Care?
Google search is a top referral for many bloggers so increasing the odds of someone clicking on your site is to your benefit. If you blog as a income method, more traffic means more earning potential. If not, more traffic allows for more interaction with others.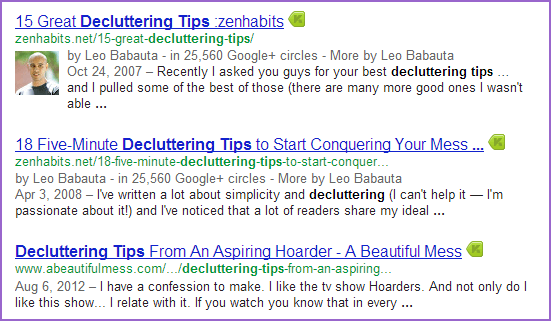 In the image above, which link draws your attention first? If I was a betting person, I'd say the one with the photo because it's different and stands out from the others.
Also, who doesn't like to see their name in the author byline?
How Do I Set It Up?
There are two ways of setting it up and I did both for this blog and other blogs where I write. Before you link these together check your Google+ profile to ensure you don't share things you don't want to share publicly.
Blog or Website Method
This method requires a bit of work in the form of a code or plugin.
Add your Google+ profile to each post you write or to your author page
Edit your "Contributor To" section on Google+ and add the domains where you write
Adding your Google+ profile will be the hardest step and probably the one that will give you the most headache if you're not code saavy. There are WordPress plugins but I haven't tested them on the blogs I manage. On this blog, I use a fantastic theme that included the option to add Google+ to the author page. On another blog I manage, I added code a while back to a few files to create a custom author page.
Email Method
This method only works if you have an email address on the domain where you write. Example:
[email protected]
Apply for authorship with Google. Google will send an email to the email address on your domain. Click the verify button or link contained in the email.
While this might seem like the easy way and for some it might be the easiest method, you might not have access to email on some domains especially in the guest blogging realm.
Did It Work?
Use Google's Rich Snippet Testing Tool and test a URL of one of your posts. If you see your picture and name, it worked. If not, give it a few days before testing the URL again.

What Now?
Start building your Author Rank by writing superior content utilizing SEO techniques all the time. Reach out to other places where you write asking them to setup their platforms for Google authorship. Take advantage of Google+ and share your superior content.
And every once in a while test a URL and revel in the fact that you are ahead of the curve…
this time.