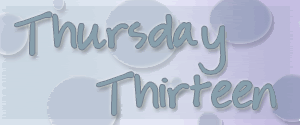 A list of movies that I love, in no particular order.
Grease (1978)
Newsies (1992)
Stargate (1994)
The Dark Knight (2008)
Escape to Witch Mountain (1975)
Avatar (2009)
Die Hard (1988)
Live Free or Die Hard (2007)
Eragon (2006)
Ace Ventura: Pet Detective (1993)
50 First Dates (2004)
The Da Vinci Code (2006)
Angels & Demons (2009)
Get the Thursday Thirteen code here!
The purpose of the meme is to get to know everyone who participates a little bit better every Thursday. Visiting fellow Thirteeners is encouraged! If you participate, leave the link to your Thirteen in others' comments. It's easy, and fun!
Trackbacks, pings, comment links accepted!
View More Thursday Thirteen Participants