Costume SuperCenter has a fantastic selection of costumes that are great for Halloween or every day dress up. They even have a section dedicated to Mardi Gras from costumes to masks and more. I clicked around and saw so many fantastic costumes but settled on a child size king costume.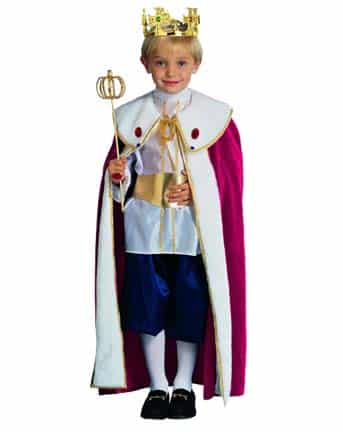 All hail the King!
All hail the King! This regal ensemble is fit for your son with visions of royalty dancing in h is head. The Child King Costume comes in small, medium, and large and includes a faux ermine trimmed cape, a satin-like shirt, blue satiny knickers and a gold belt.
Add long white socks, a King's Gold Crown, a golden scepter – actually a Gold Globe Top Sparkle Wand for Costume (sold elsewhere on the site) to give him that royal treatment. A Sir Peter sword is also a useful accessory, for when he wants to knight someone. This is a great costume for use in a play at school, or when he wants to be King of the house during make believe playtimes. And needless to say, he can wear it at Halloween and regally request his royal tithes be paid in delicious treats, and of course his vassal neighbors would have to pay!
I ordered a medium size to allow for a little grow room for Drama King so he can be a king for a while. Drama King was excited about trying out a new dress up costume. The first thing I noticed when I opened the costume was the quality. This was definitely not a throw away plastic costume and would survive through many playtime dress up sessions. As expected, the costume was a tad large on Drama King so the sizes are truly standard unlike some costumes we've picked up locally in the past. The costume comes with a cape, shirt, knickers and a belt. A crown and scepter are available for purchase to round out the costume but we used items found around the house. Drama King had a blast and I put the costume up to use for Halloween this year.
The only thing that would keep me from purchasing this costume or ones similar is the dry clean only label.
Where To Buy
Costume SuperCenter has a huge selection for adults and kids in their online store.
Follow Company
Site: https://www.costumesupercenter.com/
Disclosure: This post brought to you by Tomoson. Our family received product for free in exchange for an honest, unbiased review. All opinions are 100% mine.