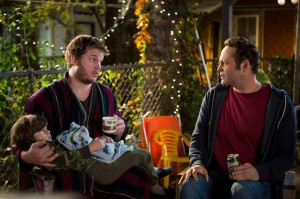 We're one of the first sites to broadcast the Delivery Man trailer. That's right, you're seeing a Delivery Man trailer that hasn't been released the mainstream media right here just for being one of our readers.
From DreamWorks Pictures comes Delivery Man, the story of affable underachiever David Wozniak (Vince Vaughn), whose mundane life gets twisted in a knot when he finds out that he fathered 533 children via sperm donations he made twenty years earlier. In debt to the mob, rejected by his pregnant girlfriend, things couldn't look worse for David when he's hit with a lawsuit from 142 of the 533 twenty-somethings who want to know the identity of the donor. As David struggles to decide whether or not he should reveal his true identity, he embarks on a journey that leads him to discover not only his true self but the father he could become as well.
Delivery Man
Vince Vaughn plays an affable underachiever looking for his purpose in life, when he finds out he's fathered 533 children through anonymous donations to a fertility clinic 20 years ago. Now he must decide whether or not to come forward when 142 of them want to meet their biological father.
Produced by:
Andre Rouleau
Follow Company
Delivery Man Trailer
Photo Gallery