The other night, I realized that I was out of cream of mushroom soup when I needed a can to prepare our steak stroganoff. I searched and searched and compiled a few recipes to come up with a substitute version that could be modified to make any type of cream soup. It took only a short moment to whip up a enough for one can of soup and there was little difference in the end result, excluding that I had no mushrooms so it ended up being a cream of beef type soup.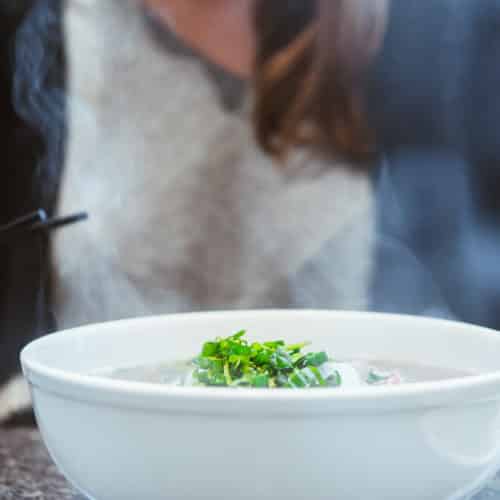 Cream Soup Base
If you have ever gone to the pantry and found that you don't have that cream soup you thought you had then this is for you. Or maybe you just want to make your own cream of [fill in the blank] soup.
Ingredients
2

tbsp

butter

3

tbsp

all-purpose flour

1/2

cup

chicken broth

or beef

1/2

cup

milk

1

tsp

minced onion

dried

1/8

tsp

basil

1/16

tsp

thyme

1/16

tsp

pepper
Instructions
Melt butter in a saucepan over medium-low heat.

Stir in flour; keep stirring until smooth and bubbly.

Remove from heat and add the chicken broth and milk, a little at a time, stirring to keep smooth.

Return to heat.

Bring sauce to a gentle boil; cook, stirring constantly, until it thickens.
Notes
This cream soup base can be varied by using vegetable broth, sauteed chopped celery, celery seed, or sauteed chopped mushrooms. Adjust herbs or seasonings, as desired.
Yields 10.5 ounces, approximately 1 can of cream soup