A few nights ago Tim and I had the best date night in probably our entire relationship. A few weeks ago, we found out that Green Day, one of our favorite bands, was coming to a small venue near us. This is highly unusual for a mega band to do a club tour but for some reason the band decided to hit a few clubs on their way to the SXSW conference.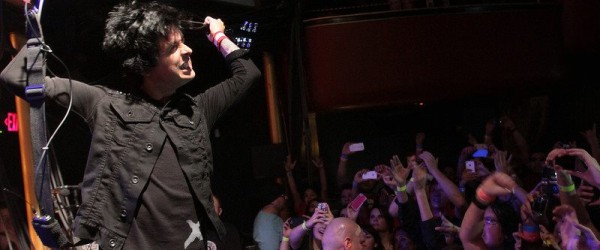 We waited in line for hours as everyone had to check-in to get banded before entering the show due to their various attempts to thwart scalpers for this small show. Once we got inside and scoped out the perfect spot, Tim grabbed a soda for each of us and we people watched because we opted for balcony spots over the pit area. Right about start time, we were informed that Green Day would be a little late because the venue was taking too long and people were still outside waiting to get banded and the band didn't want anyone to miss the show due to the venue's slow check in process.
Thankfully the musicians' instrument techs dubbed themselves Classic Hugo and the Dirty Dick Beaters and put on an impromptu performance to keep the audience entertained. After four songs, they left the stage to prepare for the show and the speakers were again playing random songs until one song—probably the only song that could result in a sing along— started, Bohemian Rhapsody by Queen.
Green Day takes the stage
Moments after the sing along, the standard introduction song for Green Day started and you could feel the energy jump by leaps and bounds. Or was that just the people around us jumping? Surprisingly they did not start their set with the standard Welcome To Paradise instead opting for 99 Revolutions from one of their newest albums Tre!.
Then during the second song, Know Your Enemy, a young fan was enticed by Billy Joe Armstrong to drop from the balcony to the pit below. Upon successful jump, the boy was brought on stage where he not only got a hug from Armstrong but he sang a few lines of the song before jumping back into the pit to crowd-surf his was out.
The entire band put on a fantastic club show and interacted with the energetic fans in a way you just can't get from a large stadium performance. They pushed the audience to sing along and even asked if anyone knew a Texas song before sideman Jason Freese sang a bar from the only one he knew, Deep In The Heart of Texas. Silly, sincere and they had as much fun performing as the fans had watching.
Green Day Set List
99 Revolutions
Know Your Enemy
Stay the Night
Stray Heart
Stop When the Red Lights Flash
Letterbomb
Oh Love
Holiday
Boulevard of Broken Dreams
Burnout
Brat
Disappearing Boy
Highway to Hell / Brain Stew
St. Jimmy
When I Come Around
Basket Case
She
King for a Day / Shout / Stand by Me
Minority
Encore
American Idiot
Jesus of Suburbia
????? – Unreleased – Unfinished
X-Kid – 1st Live
Brutal Love – 1st Live
Check out these photos!