Lost at Seventeen is the second album from Emily's Army and they have fine tuned their sound with this one with more of a grunge rock meets pop punk feel. A couple of songs even have a traditional British punk feel like Jamie and Part Time Burn.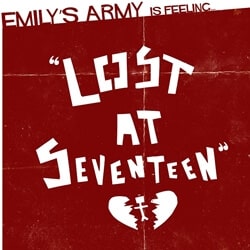 The first album they released in 2011, Don't Be A Dick, was a decent album for being their first but they have come a long way with this one.
Surprisingly it is very good. Normally every album always has a song or two that I don't really like but I cant say that about Lost At Seventeen as every song is really good. Lost At Seventeen was produced by Billie Joe Armstrong of Green Day.
Music Video Playlist