Super Bowl ideas have been floating around for weeks as people prepare for their parties. But what if you completely forgot about it? I know you're thinking, "Who'd forget about the biggest football game of the season?" Life happens and things sneak up on us at the last minute.
Before The Super Bowl – Get your party goers involved whether they are big or little with this Super Bowl Party Props game. There are about 20 this or that style questions from who'll win the coin toss to how many times the Harbaugh parents will appear on TV. As your guests arrive, ask them to fill out the questions and collect them before the game starts. After the game ends tally up the correct answers and see who wins.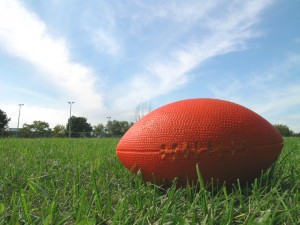 During The Super Bowl – Who doesn't love the ridiculously expensive commercials? The Super Bowl Commercial Bingo is a printable game with ten bingo cards and requires supplies you probably have on hand; printer, paper, and pen. Have more than ten guests? Simply team people up!
After The Super Bowl – While you're finding out who the Super Bowl MVP, why not have your guests vote for your party MVP using a secret ballot. Hand out scraps of paper and have each person write the name their pick. Tally them up and select your MVP. Maybe even have the MVP give a short acceptance speech.
Why not check out my most requested recipe or see what our favorite commercials from last year's Super Bowl. Need more food ideas? JadeLouise Designs has some fantastic recipes.