This review may contain inadvertent spoilers. Proceed at your own risk. Some information and images come from promotional material.
Unless you live under a rock, you've probably heard about the show Orange is the New Black. But did you know that the second season is about to launch exclusively on Netflix? Orange is the New Black, along with House of Cards, are Netflix's only original shows that have done well for them. I suppose you could say them picking up Arrested Development did well too but that actually fizzled really fast. Jenji Kohan, the creator of Weeds, is also the creator of Orange is the New Black. We thought Weeds was a hilarious show so we were excited to watch the first season of Orange is the New Black. This series is based on the memoir Orange Is the New Black: My Year in a Women's Prison by Piper Kerman.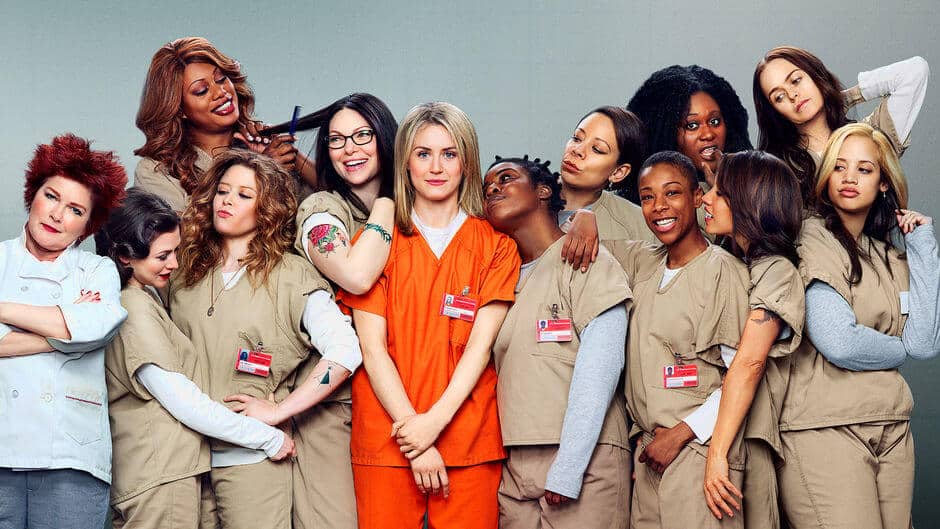 Convicted of a decade old crime of transporting drug money to an ex-girlfriend, normally law-abiding Piper Chapman is sentenced to a year and a half behind bars to face the reality of how life-changing prison can really be.
Piper Chapman, the primary character, is a thirty plus woman who is serving a fifteen month sentence in prison after being convicted of a past crime. Piper expects that she can keep her head down and bid her time until the end of her sentence but she is slammed with problem after problem. She quickly learns that surviving her sentence will require learning the rules of prison life. Overall, the plot can be slow but is not a can't miss show because something just seems amiss.

The main recurring characters, aside from Chapman, include Larry, Piper's fiancé, and Alex, Piper's ex-girlfriend and ex-partner in crime. You also have a variety of inmates that slowly reveal their own back stories as the main plot progresses. One of the biggest moments in the first season is Larry learning that Piper is having a lesbian affair in prison. Can't be in a women's prison without lesbian action right? But the twist to the affair is the person she is having an affair with is Alex which happens to be the person that turned her in and the only reason she's in prison in the first place. Another moment that has yet to fully play out is when an inmate falls in love with a prison guard and finds herself in a tight spot when she realizes she is pregnant. All of this is going on while inmates and guards alike are sneaking drugs and other contraband into the prison.
Unlike TV shows, Netflix releases an entire season at a time and the second season of Orange is the New Black will be available June 6th. Netflix has a great interface and some unique programming however it also has a quality issue. I have connected to Netflix from two locations using two business connections which do not filter, rate limit(throttle) or any of the other crappy stuff some ISP's do but the video quality is just not there. Amazon Prime, Flixster, Vudu, and Hulu constantly out perform Netflix. Amazon and Vudu both have real HD Quality video while Netflix claims to be HD it looks more like unscaled SD. With Netflix raising their rates again they really need to bring up the quality factor or risk losing customers.
Will you be watching season 2 of Orange is the New Black?
Follow Netflix
This post brought to you by Netflix. A streaming membership was provided to our family for this review. This review contains spoilers. Proceed at your own risk. Some information and images come from promotional material. This post contains affiliate links. All opinions are 100% mine.