For a couple of years now I have enjoyed making sourdough bread. Here is the standard basic recipe that we use based on a recipe from Northwest Sourdough.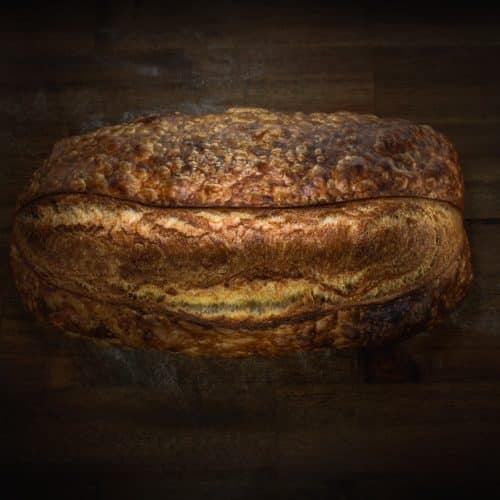 Sourdough Bread
Ingredients
3

cups

sourdough starter

166% hydration – 27 oz – starter is fed with 1 cup water and 1 cup flour

19

oz

water

tepid filtered

5

oz

evaporated milk

1

oz

butter

melted cooled

8

cups

bread flour

~2lbs 3.8 oz

1.2

oz

sea salt
Instructions
Add sourdough starter to the mixer.

Add water (water/evap milk combo) to mixer. Add oil (butter) to mixer. Add salt to mixer. Add 8 cups of bread flour (approx 2lbs 3.8 oz) to mixer.

Turn mixer on medium speed.

Slowly add remaining bread flour (all purpose if substituted) as mixer is turning.

Add up to ½ cup additional flour, if dough feels too sticky.

The dough should feel sticky, but not stick to your finger like glue when you push it into the side of the dough. The dough should have pulled away from the sides of the bowl and feel nice and springy.

Turn off the mixer and allow the dough to rest for about 15-20 minutes.

Mix on medium for another minute.

Cover and let rise until doubled about 6-8 hours.

Deflate dough and pour onto floured counter.

Knead just until dough comes into a ball.

Divide the dough into two large loaves or three regular sized loaves.

Shape loaf into preferred style (boule, baguette, etc)

Let loaves sit for about 5-10 minutes.

Shape into final form and put them upside down with the seam facing upward in lined basket (banneton) dusted with semolina flour, rice flour or cornmeal.

Let the loaves rest for 30 minutes.

Preheat oven to 450 degrees.

Sprinkle loaves with semolina flour on the top (which is really the bottom) after the loaves have sat for 30 minutes.

Place a greased baking sheet upside down on the top of the basket. Turn the sheet and basket over to let the loaf out of the basket. Repeat for each basket.

Bake the loaves separately for best results.

Slash first loaf, place in oven and bake for 15 minutes.

Turn the oven down to 425 degrees, turn the loaf and bake another 15 minutes.

Remove loaf from oven and let cool on a cooling rack.

Repeat baking steps for second loaf.
Teresa Greenway of Northwest Sourdough has generously allowed us to share her e-book Discovering Sourdough with our readers free for a limited time.
UPDATE: The three part e-book can now be purchased on Amazon.
Weekly Menu
Lunches
Salad x2
Ground beef burritos
Brunch
Leftovers x3
Dinners
Greek Steak Gyros
New Mexican Beef Brisket
Orange Pineapple Honey Glazed Roast Pork
One Skillet Beef Noodle Medley
Beef Enchiladas
Sliced Sirloin Teriyaki
A undecided casserole dish – searching for a new recipe, any ideas?