This summer we thought we'd buy an above ground pool but given the fencing requirements decided against it. We figured we'd just take advantage of the new year round indoor pool in town. Saturday was our first time at the pool and we had a blast. If you're ever in our neighborhood, you should put this pool on your itinerary.
The pool has a splash area that is barely over 1 foot deep for the littlest of the family, a 3.5 ft deep pool for older kids, a tube slide for the brave ones, a current channel for working those leg muscles, two lap lanes and a separate pool away from all the commotion. They even have a room right off the pool area for throwing a swim party.
The best thing, in my opinion, about the pool is the available life vests. Yes, our two boys are learning to swim. Little T took swim lessons before we moved which helped him get over some of his fears about swimming. Drama King hasn't taken any lessons but really wants to learn so he practices every time he gets a chance. He was swimming up a storm and I bet by the end of summer, he'll be swimming without the life vest.
Drama King fell in love with the slide. He went down at least a half-dozen times and convinced Little T to try it out. Little T swears he saw his life flash before his eyes when he hit the water. Little T preferred the current channel because it is basically a big loop we walk swam.
On the way home, the boys had a snack and a bottle of water to refuel after almost three full hours of swimming. Once the snacks disappeared, the backseat became super quiet. When we got home, this is what I saw.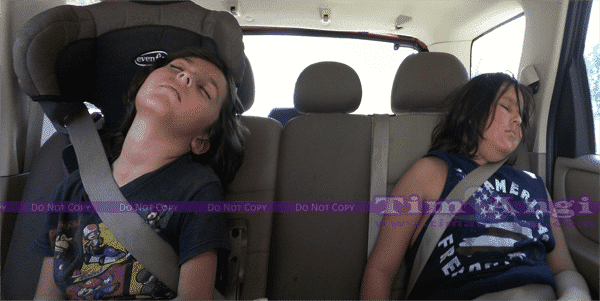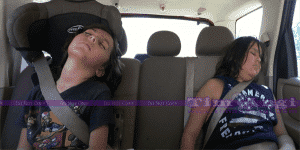 They were totally beat and were mellow for most of the evening. I think the aquatic center was a hit and we'll be dropping by regularly.
Where's your favorite swimming hole?