Elevated influenza-like illness visits are prompting some U.S. states to declare state of emergencies. Take a moment and be an educated patient before you run out for your flu vaccine.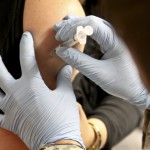 Does the flu shot prevent the flu?
Over 200 viruses cause influenza and influenza-like illness and without a laboratory test, doctors cannot tell the two apart. According to Cochrane Summaries, "Influenza vaccines have a modest effect in reducing influenza symptoms and working days lost." Basically, the flu shot may help under specific conditions but overall is pointless.
But the media says the flu vaccine is 50-70% effective. What gives?
Natural News discusses how the CDC manipulates statistics "to generate fear-based compliance with flu shot agenda" after they analyzed The Lancet study which concluded the flu vaccine only prevents the flu in 1.5 out of every 100 adults injected. The 49-70% effectiveness, depending on what study the media sourced, comes from the manipulating the numbers. Less that 3% of adults get the flu and about 1.2% of vaccinated adults will get the flu. So if you're in the 3% and you got the flu shot, you have about a 50/50 chance of catching the flu. But that wouldn't make people run out and get a flu shot so media manipulates the number to make the vaccine seem more appealing.
What about the elderly, kids, and those considered "at-risk"?
A recent study by the University of Minnesota suggests that seniors and children, commonly considered at risk, derive little or no benefit from getting flu shots after studying thousands of studies published over the last 45 years.
A small chance is better than nothing, right?
After reading all the data, you might still think the small chance to avoid flu, hospitals and even death is worth the slight pain of injection. But don't forget to weigh the side effects and possible long-term complications into your equation and make the best educated decision for you and your family.
Do you plan to get or have you gotten your flu shot this year?
Flu shot image by USACE Europe District via
flickr