Every year we have so many calendars that I seriously hate having to change them out. I have one in the boys room, the office, the kitchen, and the playroom. Last year, we didn't put up a single calendar and by mid-year the boys were begging for a calendar because they couldn't remember what was going on each day. I printed a calendar for them to put between their desks to help them keep track of their days.
Why didn't we do calendars last year? I tried to go completely digital which obviously left out one important thing—the boys have always had a calendar and I didn't provide a digital version for them as I did with the rest of the house. So this year thanks to Neu Year, we'll go back to wall calendars with a slight twist as we'll be using a revolutionary approach to calendars.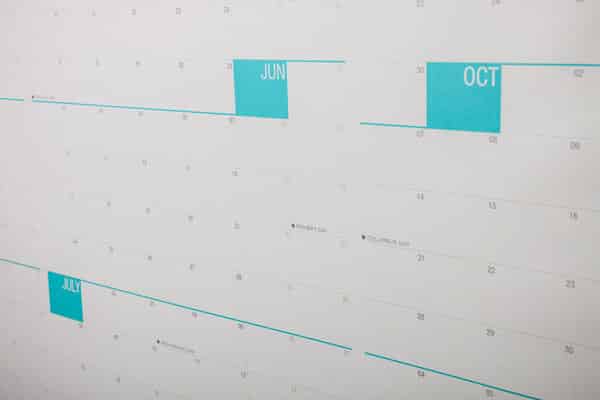 About Neu Year Calendar
The Neu Year calendar is HUGE! 27″ x 39″ of pure calendar space. The color used doesn't stand out nor fade into the background. Now it does take a little getting used to as the entire year is blended together but it makes more sense then traditional calendars. Next week, I plan to follow these fantastic tips for using a calendar and add some actionable items for our family. Maybe this year I won't be scrambling to put together our family newsletter or forget to take our Christmas photos.
Get Your Neu Year Calendar Now
Hop on over to Neu Year's site and buy your calendar today and use the code below to save 30%. They offer standard or academic year in an uncoated or dry erase style.
Disclosure: This post brought to you by Neu Year. Our family received product for free in exchange for an honest, unbiased review. All opinions are 100% mine.