We get the craving for good old fashioned fried chicken occasionally but we have never found a recipe that is good. We ran across this recipe which is a Eastern Texas style but it comes out very moist which must be due to soaking in buttermilk.
We love baked bean and corn on the cob along with our fried chicken. What is your favorite side dish?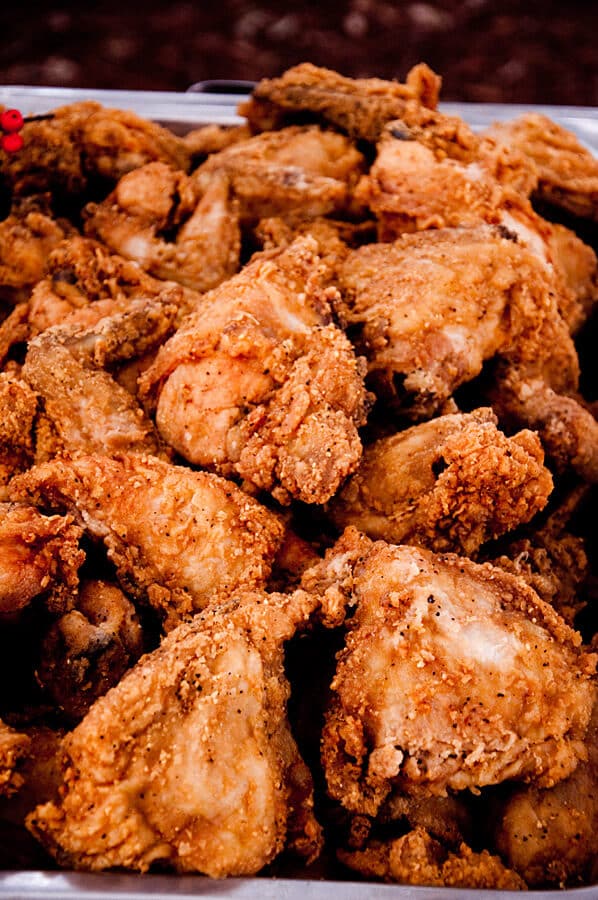 Fried Chicken
Nothing beats fried chicken made with your favorite spice blend.
Ingredients
4

pounds

chicken

breasts, thighs, legs, or mix

1 1/2

pounds

shortening

preferably Crisco

3

tablespoons

bacon drippings
Marinade
4

cups

buttermilk

2

teaspoons

Tabasco sauce

1/2

teaspoon

salt

1/4

teaspoon

pepper
Seasoned Flour
1

teaspoons

salt

1

teaspoon

black pepper

1

teaspoon

Morton Nature's Seasons Seasoning Blend

1

teaspoon

garlic powder

1

teaspoon

onion powder

1

teaspoon

six pepper spice

1 1/2

cups

all-purpose flour
Instructions
At least 2 1/2 hours (and up to 12 hours) before you plan to eat, mix the marinade ingredients together in a shallow dish. Add the chicken parts, turning to coat them well with the mixture. Cover the dish, and refrigerate it.

About 20 minutes before you plan to fry the chicken, bring it to room temperature.

In a bag, combine the seasoned flour ingredients. Set aside.

In a 10- to 12-inch cast-iron skillet, melt the shortening over high heat. Add the bacon drippings to the skillet. When small bubbles form on the surface, reduce the heat slightly. Place a large brown paper sack near the stove for draining the chicken.

Starting with the dark pieces, take a piece of chicken out of the marinade, shake off the excess liquid, and drop into the seasoned flour. Shake the bag well so that the piece is coated thoroughly. Remove it from the bag, and lower it gently into the skillet, skin-side down. Repeat until all the chicken is in the skillet, arranging it so that all the pieces cook evenly. The pieces should fit snugly together, although they shouldn't stick to each other. Reduce the heat to medium, and cover the skillet. Fry the chicken exactly 17 minutes.

Lower the heat slightly, take off the cover, and use tongs to turn over the chicken gently. Fry it uncovered for another 17 minutes.

Remove the chicken with the tongs — it will be a deep, rich brown — and lay it on the paper sack to drain.
This month we've taken on a challenge – one that involves blogging through the alphabet. #AtoZChallenge
Did you miss a letter? Catch up now.

Photo Credit: Roger Kirby via stock.xchng