Drama King loves mustard and cheese after being warmed in the microwave for a couple seconds. Little T's favorite is ham and cheese grilled to a crisp. Tim and I had grinder style club sandwiches for lunch. Ham, turkey, roast beef loaded with tomatoes, lettuce and pickles then smothered with Italian dressing. I used The Sandwich Wonder-izer! to create the image above of my favorite sandwich so why not jump over and make your own favorite sandwich. Did you know that Wonder bread is not just the plain bread from your childhood. Wonder bread actually comes in more than 20 different varieties so you can please everyone in your house. Their new Smartwhite for Kids bread has only 50 calories per slice. That's pretty good for bread. Plus over on Wonder Bread's facebook page, they'll be announcing their 7Wonder of the USA Teacher tour winners soon!
What is your favorite sandwich?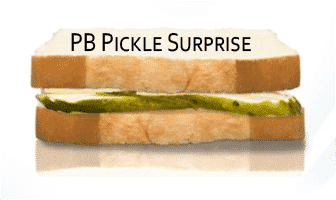 PB Pickle Surprise
In elementary school, during lunch, I discovered my favorite sandwich but no one ever wants to try it so I've given it a special name and will share it with you now. It's a super simple sandwich which sounds weird but is super yummy.
Ingredients
2

slices

bread

1

tbsp

Peanut butter

1

tbsp

Mayonnaise

1

Pickle

sliced
Instructions
Spread mayonnaise on one slice of bread and peanut butter on the other slice.

Place pickles on the peanut butter covered bread.

Cover with remaining slice of bread mayonnaise facing the inside of the sandwich.

Eat and enjoy!
This post brought to you by Wonder bread. All opinions are 100% mine.