Red Hot Southern Sweet Potatoes
Yesterday, I told you about our non-turkey Thanksgiving dinner plans and promised to share a recipe for some fantastic sweet potatoes. We serve this almost every time we serve glazed ham. It's a perfect combination!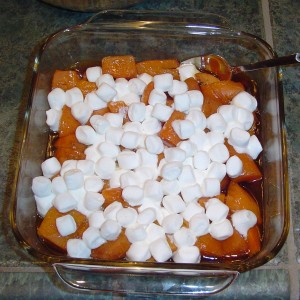 Red Hot Southern Sweet Potatoes
Cuisine:
Freezer Friendly
Ingredients
3½ lbs sweet potatoes (peeled & cubed)
¼ cup butter or ¼ cup margarine, melted
½ cup brown sugar (packed)
1¼ cups red cinnamon candies
¾ cup water
1 (10 ounce) package miniature marshmallows (optional)
Instructions
Place sweet potatoes in a large saucepan w/enough water to cover.
Bring to a boil & cook over med heat till tender (about 25 min).
Drain of all water & place in a large casserole dish.
Preheat oven to 350°F (175°C).
In a med bowl, stir together the butter, brown sugar, red hot candies & water.
Pour over the sweet potatoes in the dish.
Bake for 1 hr till sweet potatoes are soft & the candies are melted.
After this, you may top w/marshmallows (if desired) & return the dish to the oven for 10 min to toast them.
Notes
Freezer friendly: After pouring the red hot mixture over the sweet potatoes, cover and place casserole in freezer. When ready to bake, thaw in the refrigerator before continuing directions.
Image by Tom Brandt via
Flickr