Last year, we went to SpringFest and participated in their Easter egg hunt but some of us came home cranky and overwhelmed so this year we tried to find something better. Unfortunately we were unable to find a small spring festival that was not held at a church so we opted to go park hopping with our puppies on Saturday.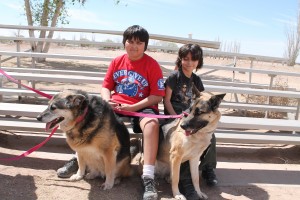 Our first stop was a semi-deserted park that contained a ton of sports fields so we took the opportunity to take a group shot of the boys and the puppies. Afterwards we hit a few other parks including one that had a group of people celebrating spring by throwing paint at each other.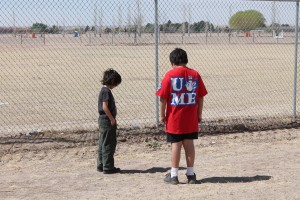 Sunday morning we had a quiet start to our day with Easter baskets and family time. In the late afternoon, Tim hid plastic Easter eggs outside for the boys. We sat down to a fantastic meal of spiral ham, au gratin potatoes, red hot southern sweet potatoes, and rolls.
What did you do for Easter Weekend?
If you're joining us from the Ultimate Blog Party, welcome to Tim And Angi's Blog. I'm Angi, the primary writer of this blog. Wife to Tim. Mom to Little T and Drama King. We live in a small country town in southern New Mexico. When I'm not blogging, I am a web and print designer. This is our fourth year participating in the Ultimate Blog Party so if you haven't checked out the party, you'd better hop on over now.
Don't forget to come enter our current giveaway for your chance to win a
Catch a Character code
. You can finally catch that sneaky Easter Bunny!