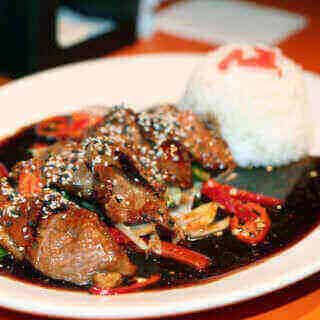 Soy Vay Veri Veri Teriyaki Clone
A wonderful base to give meats and other dishes a sweet teriyaki flavor.
Ingredients
2

cups

soy sauce

I prefer the light soy sauce but any will work

¾

cup

sugar

1

tbsp

brown sugar

1

tbsp

garlic

minced

1

tbsp

ginger

grated

¼

cup

sesame seeds

toasted

¼

cup

sesame oil

¼

cup

onion

dried, minced

1

tsp

onion powder

1

tsp

garlic powder

1

tsp

ginger powder

1

tbsp

cornstarch

dissolved in water
Instructions
Whisk all the ingredients together in a small bowl.

Transfer the mixture to a small sauce pan.

Heat the sauce over low heat until the sugar begins to dissolve. This should take between 10 – 15 minutes. It's alright if all the sugar doesn't completely dissolve, it will eventually dissolve over time.

In the last 5 minutes of cooking, dissolve the cornstarch in ¼ cup of water and add to mixture. This will help to make the sauce a little thicker without changing the flavor very much.

Allow to cool and transfer to a bottle so you can put it in the refrigerator. It's best to all to cool overnight before use, but if you are in a hurry, you can use it to marinate right away. Works great on vegetables for soy meat products.