Today's Topic: What are your Christmas traditions?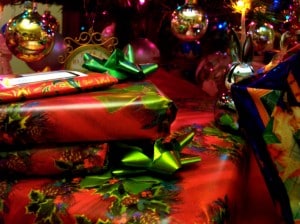 Before we moved to New Mexico, we used to go to a local theater company on Christmas eve for their Christmas show. We munched on popcorn, ate pizza, fried zucchini, and salads. And during intermission, we have ice creams to celebrate Tim's birthday and our anniversary.
Now that we're in a new area for the holidays, we've been trying out new traditions. We usually hit the neighboring historical town for it's Christmas festival. All of the stores put on a wonderful display with carolers, last minute gift ideas and, of course, lots of hot chocolate. This year we'll be sending Grandma and the boys to the festival without us so we can setup the boys' big gift. I want it fully ready to be played Christmas morning as I'm sure it'll get a ton of use everyday for a while.
Next week's topic: How are you planning to ring in the new year?
Think About It Thursday
Does your family have any special Christmas traditions?
The ground rules:
No Giveaways or reviews please, we want to stick to our topic or whatever thought-provoking topic you have decided on your own. We want to get to know you personally not what you like or give out right?
Make sure that you follow all the hosts! (Mumfection, and Home Maid Simple). Pop in and let them know you're following via GFC and/or Facebook (or whatever your following method is).
Only thought-provoking posts, which is why we always have a great topic for you prepared in case you are just having a blank day.
Make sure your post has our Think About it Thursday button!
Have fun, make some friends, follow, comment thoughtfully and above all else be respectful!
Lastly, we would love it if you suggest some topics for us to discuss! Who knows if we pick your topic, we may feature your blog!