Upgrade To A Canon EOS Rebel At Best Buy
Sponsor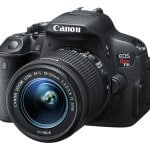 We discussed TVs in the last post about the BestBuy Hinting Season so this time we'll focus on cameras, specifically our favorite camera brand—Canon. We've had Canon cameras around here since–well as long as I can remember. We love our Canon cameras because they are simple enough for me to use but offer the advanced features Tim wants in a camera. And they last a seriously long time as we've even handed down our cameras to the boys when Tim upgraded to the Canon EOS Rebel.
Here's what Tim has to say about his Canon Rebel:
I replaced my old Canon Powershot camera almost two years ago with a Canon EOS Rebel T3 and boy am I glad I did. This is the best camera I have ever owned. The powershot was a good camera and got okay sport shots but the Canon EOS Rebel gets crystal clear in motion shots.
I only wish I purchased a Canon EOS Rebel sooner. It is my go to camera for just about everything. Family portaits, kids sporting events, taking some nature shots for my youngest son. It can handle it all.
Worried about you or your kid dropping the camera? Don't fret, we'll have a DIY life hack on Wednesday to fix this little issue.
Best Buy #HintingSeason – Canon EOS Rebel
Best Buy is the ultimate destination for the latest as to capture your holiday memories. The Canon EOS Rebel T5i is one of the best-selling DSLRs. This camera makes advanced photography easy and fun, and gives you exceptional image quality, along with a host of features to enhance your creative expression.
Capture Hollywood caliber full HD video
Continuous autofocus while taking HD video
Features an 18.0-megapixel CMOS sensor and a DIGIC 5 image processor to ensure vivid, crystal-clear images.
The 3″ vari-angle touch screen simplifies navigation.
Save $150 on the Canon EOS Rebel T5i*
Visit
Best Buy
to learn more.
*offer valid 12/7-12/20
This post brought to you by
Best Buy
. The reviewer has been compensated in the form of a Best Buy Gift Card. All opinions are 100% mine.