After the yard sale, we gathered up our books and took them into Bookman's Entertainment Exchange. The staff thumbed through our treasures about selected a handful to accept. We tried two different locations and got about $15 in trade credit at each store.
With the credit, we picked up a few first and second lever reader books for the boys plus a power supply and gun for the Nintendo. Yes, the 1980's fantasic NES that a lot of us had as kids. The NES is Tim's from his childhood. It has been played and stored, played and stored and had lost the power supply and gun in the last round of storage.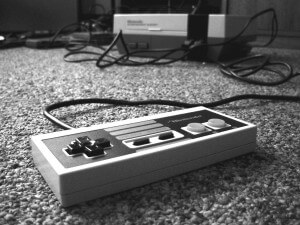 The boys have spent an entire day cycling through all of Daddy's old games. Super Mario, Dunk Hunt, Turtles, Batman, Super Mario 3, World Wrestling, and so many more. Guess what the biggest complaint has been? Not enough 2 player games and not enough moves but they play anyway.
It's hilarious to see them playing these old games. Games that I remember from my childhood. Games that I had forgotten I know how to play. It's amazing! I picked up the control in Super Mario and was at the final level before I realized it. I guess it's like riding a bike; you never forget.