This month we've taken on a challenge – one that involves blogging through the alphabet. Did you miss a letter? Catch up now.
Do we still need cookbooks? Sites after sites list recipes but none of them seem to list them in ways where you can try new types of meals.  You pretty much need to search for specific items so you semi know what you are going to get but with a good old fashioned cookbook you can easily browse and certain recipes may just stand out and make you want to try them.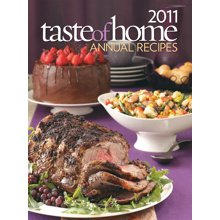 We love pretty much any of the Taste of Home cookbooks
. We find at least a few new recipes out of every annual edition they release and they do include lots of pictures of the meals so it can be eye catching but we still relay on our old Joy of Cooking and Better Homes And Gardens cookbooks too.
Several sites exist to create your own cookbook which can be a fun creative project and makes a nice gift to give but the biggest thing you need is a recipe manager so you can keep track of your favorite recipes.  The Recipe Manager and Big Oven make some very easy to use managers.
What are your favorite cookbooks?