Our last Chinese recipe for orange chicken was such a hit that we decided to share another of our favorite Chinese recipes, Mongolian Beef.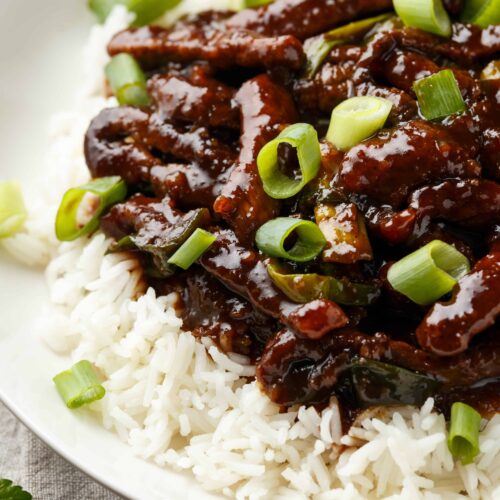 Mongolian Beef (PF Chang Clone)
Ingredients
2

lb

flank steak

1/2

cup

cornstarch

4

large

green onions

sliced

frying oil
Sauce
4

tsp

vegetable oil

1

tsp

ginger

minced

2

tbsp

garlic

minced

1

cup

soy sauce

1

cup

water

1 1/2

cups

brown sugar
Instructions
Dredge & Fry Beef Strips
Heat frying oil to 350*.

Slice flank steak against the grain into 1/4″ thick bite-size pieces while tilting the kinfe blade at an angle (45* or so).

Place the cornstarch in a shallow dish and dredge the steak pieces in the fryer. Do not overcrowd fryer.

Fry for 2-3 minutes or until the edges begin to darken. Do not over cook.

Remove from fryer and drain on paper towels. Repeat until all beef is cooked.

Set aside.
Make The Sauce
In a medium skillet, heat vegetable oil over med/low heat.

Add ginger and garlic. Stir for a minute.

Add soy sauce and water.

Dissolve the brown sugar in the mixture.

Raise heat to medium and bring to a boil.

Boil for 2-3 minutes until the sauce thickens slightly.
Combine and Serve
Add cooked beef strips and green onions to the sauce, stirring until well mixed.

Serve over steamed rice.