One of our boys favorite foods is pizza. They are not your typical pizza kids though. And they each like different toppings.
Little T loves three cheese pizza (mozzarella, cheddar, and parmesan) with the occasional pepperoni, ham, and sometimes pineapple.
Drama King prefers his pizza topped with mozzarella, pepperoni, ham, bacon, pineapple, green bell peppers and a sprinkle of cheddar on top.
The one thing that we can all agree is that were not a red sauce family. Our preference is garlic sauce and our recipe to make it is very simple.
Of course, the boys love to help make the pizza from the start so here's our recipe.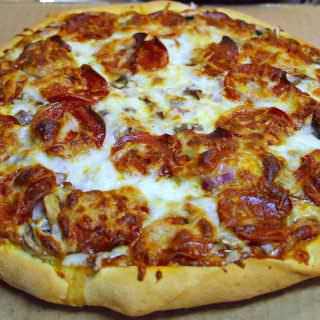 Personal size pizza
A smaller version of your favorite pizza. A wonderful activity for parties and sleepovers.
Ingredients
Pizza toppings, all optional
mozzarella cheese

shredded or sliced

cheddar cheese

shredded or sliced

parmesan

shredded or sliced

pepperoni

diced or sliced

ham

diced or sliced

pineapple

chunks

sausage

cooked and crumbled

onions

sliced

garlic

minced

tomato

sliced

red peppers

sliced

green peppers

sliced
Instructions
Make your favorite pizza dough. Divide the dough for one medium sized pizza in thirds and roll out to a personal sized pizza.

Provide each person a personal sized pizza and have them add their favorite sauce and toppings.

Pizza sauce,

mozzarella cheese,

cheddar cheese,

parmesan,

pepperoni,

ham,

pineapple,

sausage,

onions,

garlic,

tomato,

red peppers,

green peppers

Cook as originally directed. Keep an eye on them because smaller pizzas will likely cook faster and you may need to rotate them for even cooking.
Notes
We use Cheri's pizza dough recipe which makes 2 medium pizzas so we can makes 4 small or 6 kid sized pizzas. We use a white pizza sauce that consists of 1 cup of buttermilk ranch dressing & a heaping tablespoon of minced garlic (fresh) to cover 2 medium pizzas.