During the Mompact Blog hop we won a set of QuickZip sheets. I've had my eye on these sheets for a while and was thrilled when I got the email saying I'd won a set of them. Sadly, the set I won was crib size and given that we have no cribs in the house, I contacted the company and requested an upgrade and offered to review the twin size as this is a newer product for them. Imagine my surprise when they agreed to the upgrade!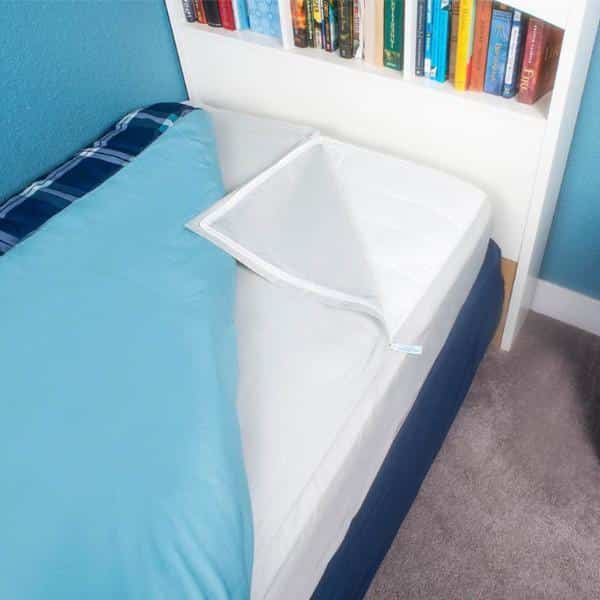 About QuickZip
The innovative two-piece QuickZip Twin Sheet Set is designed to be simple, safe and stylish. The zipper sheet (top) zips off the base for easy changing. No more mattress wrestling. And since we preshrink all our fabrics, our sheets fit wash after wash.
QuickZip Sheets fit standard US mattress sizes Crib through California King and have elastic corners to allow for a great fit on a wide range of mattress thicknesses, from thinner to deeper (thickness is also known as "drop" and "pocket" sizes) and shapes (including rounded corners).

I opted to try the sheets out with Drama King as he occasionally has night time accidents. Plus, if our puppy has accidents; it's on Drama King's bed. I was seriously shocked when I opened the sheets. They are super soft and thicker than our current sheets on the boys' beds. We have a zip around waterproof mattress pad on both of the boys' beds. These sheets give enough space to fit around the pad and zip up so easily that Drama King can unzip the sheets and take them to the laundry room for me.
This is ideal for any parent of a child with bed-wetting issues because the child can unzip the sheets, put them in the laundry and zip on a new sheet within a few minutes thus getting the child back to sleep with less fuss. And the sheets are super absorbent which contains the mess meaning the bed may not have to flipped or rotated because it's too wet to use.
The only downfall to the QuickZip sheets is cost. A typical sheet set you could pick up at any store would fall under $40 that would include a fitted sheet, flat sheet, and one pillowcase; in some cases with the child's favorite character. You would spend over $80 or more to get a QuickZip version including the base, zipper sheet, flat sheet and one pillowcase. The great thing about this is that you could easily mix and match Quickzip base and zipper sheet ($60) with store bought flat sheets ($10 or more) bringing the overall cost down.
Would I recommend QuickZip Sheets?
Yes. Even with the higher ticket price, these sheets are worth every penny. And I can mix and match with store bought sheets meaning that my ongoing cost is lower.
Where To Buy
You can purchase a set of sheets for cribs, twin beds, or play yards directly from Clouds and Stars or on Amazon.
Follow Company
Site: http://www.cloudsandstars.com
Facebook: http://www.facebook.com/quickzipsheets
Twitter: http://twitter.com/quickzip
Disclosure: This post brought to you by Clouds and Stars. Our family received product for free in exchange for an honest, unbiased review. This post may contain affiliate links. All opinions are 100% mine.