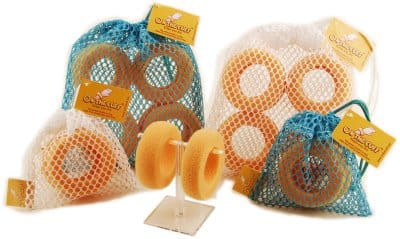 Or when your washing dishes?
Or bathing your pets?
We found the perfect answer to these troubles.
That's right, no more wet elbows! I've been using On the Cuff daily for weeks now with no wet elbows. The cuffs are made of a stretch material that will not tear and are very comfortable to wear. They are one size fits all which means they fit standard arm sizes. Tim and Drama King could not use them because their arms are too large or small, respectively. I would love to see them expand to include multiple sizes to fit more arm sizes.
On the Cuff was invented by moms, for moms as are all Mompact products. Interested in other mom created products? Jump on over to Mompact for a list of other great products. We've reviewed a handful of the products like QuickZip Twin Sheets, Phone Huggie, Toy Bungee, and other Mompact products.
I know you're going to want to pick up a pair or four to keep around your house. On the Cuff is available in a 1 pair pack packaged in a reusable mesh bag for $7.99 or in a 4 pair pack with 1 free drying stand for $24.99. If you already own On The Cuff, you can purchase a drying stand for $5.99. At these prices, you can afford to have a pair in the kitchen, the garage, and in each bathroom.
Follow Company
Site: http://www.onthecuff.net
Facebook: http://www.facebook.com/onthecuff.net
Disclosure: This post brought to you by Mompact. Our family received product for free in exchange for an honest, unbiased review. All opinions are 100% mine.