Beef And Cheddar Sandwich Recipe (Arby's Clone)
This month we've taken on a challenge – one that involves blogging through the alphabet. Did you miss a letter? Catch up now.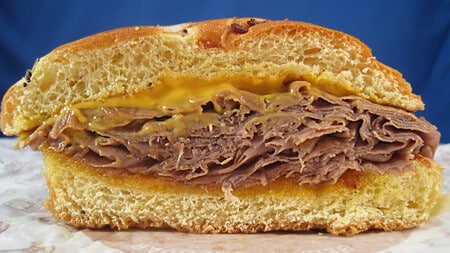 One of my favorite fast food sandwiches is the Arby's Beef 'N Cheddar with it's roast beef smothered in cheese sauce
topped with tangy Arby's sauce. Now this may not be a perfect clone of their sandwich but it's pretty darn close.
Have you tried making your favorite fast food at home?
Beef And Cheddar Sandwich Recipe
Author:
Prep time:
Cook time:
Total time:
Ingredients
2 lbs thinly sliced roast beef, warmed
16 hamburger buns
Cheese Sauce
[url href="http://www.amazon.com/gp/product/B0053B7PXQ/ref=as_li_ss_tl?ie=UTF8&tag=timandangi-20&linkCode=as2&camp=1789&creative=390957&creativeASIN=B0053B7PXQ" target="_blank"]2 cans (10.75 oz) Cheddar cheese soup[/url]
milk (approx 1/4 of each cheddar cheese soup can)
Arby's Sauce
1 cup ketchup
8 oz tomato sauce
1/4 cup apple cider vinegar
1/2 teaspoon garlic powder
1/2 teaspoon onion powder
1/2 teaspoon pepper
1/2 teaspoon salt
1/2 teaspoon Tabasco pepper sauce
Instructions
Cheese Sauce
In a small saucepan, combine the cheddar cheese soup with milk. Heat until warmed throughout. Thin with additional milk, if needed.
Arby's Sauce
Combine all ingredients in a small saucepan.
Heat to a boil, stirring constantly.
Simmer for 5 minutes.
Make Sandwich
Open each bun and spread Arby's sauce on each side.
Pile 2 ounces of roast beef on the bottom half of the each bun.
Spread cheese sauce over beef on each sandwich.
Place top side of bun on cheese sauce on each sandwich.
Notes
Store leftover sauces in an air tight containers in the refrigerator for best results.
Image Credit: Fast Food Critic via
flickr