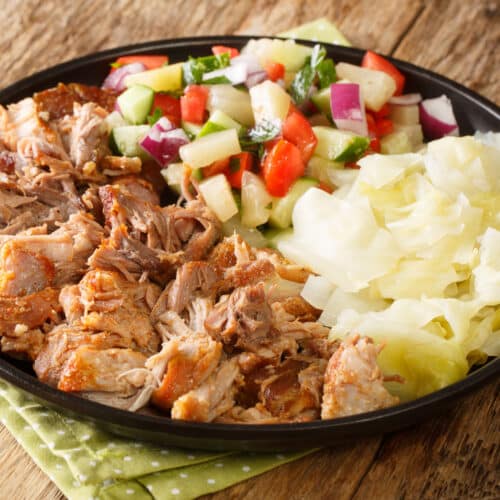 Kalua Pig
This is such a simple yet mouth watering dish.  This has become a favorite for us. It is great served with lumpia and pancit.  You may not have Hawaiian Salt but that can be picked up easy enough at amazon.com.  Oriental and Filipino grocery stores should carry the banana leaves but if you don't have any near you the leaves can be replaced with bananas.
Ingredients
4-5

pound

pork butt

2½

tablespoons

Hawaiian salt

substitute kosher salt

2

tablespoons

liquid smoke

1

banana leaf

substitute 4-5 whole, unpeeled bananas

4-6

ti leaves

substitute aluminum foil
Instructions
Make several shallow long cuts along the roast or pierce liberally with a fork. (This allows the salt and liquid smoke to penetrate the meat.)

Rub with salt and liquid smoke.

Wrap the roast with banana leaf or, place whole bananas on top of meat.

Cut the ribs from the ti leaves and wrap over the banana leaf. Tie securely with twine.

Roast in a 325-350 degree oven for about 45 minutes per pound.

When meat is done, remove ti leaves, banana leaf (or bananas) and shred pork.
This month we've taken on a challenge – one that involves blogging through the alphabet. #AtoZChallenge
Did you miss a letter? Catch up now.