Lemons with salt. Lemons in iced tea. Lemonade. Lemon chicken.
Those are just a few of the ways we use lemons in our house with lemon chicken being the most recent addition to our regularly requested dinners. As a kid, I fondly remember eating Limon, a salt and lemon powder Mexican candy, and selling them to my friends for twice what I paid. Now, the same candy – is it really even candy? – is in high demand to sprinkle on all sorts of foods.
Do lemons have a special place in your heart?
If you're joining us from the Ultimate Blog Party, welcome to Tim And Angi's Blog. I'm Angi, the primary writer of this blog. Wife to Tim. Mom to Little T and Drama King. We live in a small country town in southern New Mexico. When I'm not blogging, I am a web and print designer.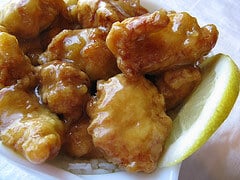 Lemon Chicken
One of the most requested recipes in our home. Basically chicken nuggets tossed in a tangy lemon sauce. Short on time, skip making the nuggets and use frozen ones instead.
Ingredients
2

lbs

chicken breasts

boneless-skinless, cut into 1" cubes

2

tablespoons

oil

oil

for frying
Marinade
2

tablespoons

soy sauce

1/2

teaspoon

salt
Batter
2

large

eggs

¼

cup

cornstarch

½

teaspoon

baking powder

1

pinch

white pepper
Sauce
1/3

cup

sugar

1

cup

chicken broth

1 ½

tablespoons

cornstarch

2

tablespoons

lemon juice

¾

teaspoon

salt

3

slices

of lemon

peeled

yellow food coloring

optional
Instructions
Marinade The Chicken
Place cut chicken breast pieces into a bowl and mix with 2 tablespoons of soy sauce and ½ teaspoon of salt.

Cover and marinate in the refrigerator for 30 minutes.

Remove chicken from the refrigerator.
Batter and Fry Chicken
Beat batter ingredients in a separate bowl.

Pour the batter into the chicken bowl and stir until all pieces are coated with batter.

Heat deep fryer to 350 degrees and deep-fry in batches until chicken is fully cooked. Drain on paper towels and set aside.
Make The Sauce
In a separate bowl, combine the sauce ingredients and mix well. Add 3 slices of lemon to the sauce mixture.

Heat 2 tablespoons of oil in your wok and stir in the lemon sauce mixture and heat until well mixed and sauce becomes clear.

Remove lemon slices.
Combine and Serve
Add chicken and mix well.
This month we've taken on a challenge – one that involves blogging through the alphabet. #AtoZChallenge
Did you miss a letter? Catch up now.