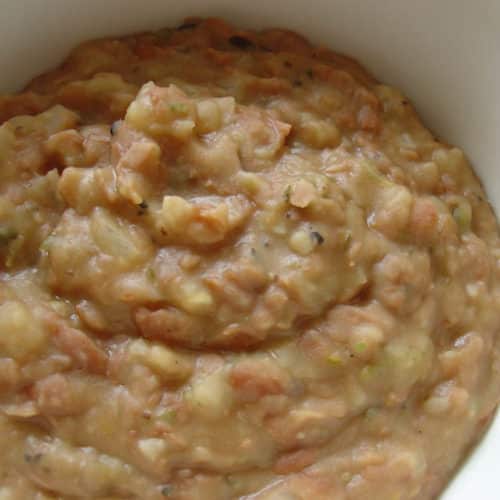 Refried Beans
Refried beans are the perfect side dish to any of our Mexican recipes. And they are super simple to make from scratch. The hardest part is getting the beans cooked because they take so long on the stove. Once you make these from scratch, you'll never buy the canned ones again!
Ingredients
1

lb

pinto beans

raw

8

cups

water

more if you don't have a pressure cooker

4

tsp

oil

if your pressure cooker calls for it

1

tbsp

lard

1

tbsp

chili powder

1/2

tsp

salt

1/4

tsp

onion powder

1/8

cup

milk

more or less depending on how thin/thick you like your beans
Instructions
Cook beans in pressure cooker as directed. For ours, we put beans, water and oil in the pot and set the timer for 30 minutes on high with natural pressure release.

Drain beans.

In a large pan, melt the lard over medium heat.

Place beans in skillet.

Stir in salt and chili powder.

Add a spoonful of salsa and sprinkle with shredded cheese. Stir to combine.

Use the liquid from the salsa to thin out the beans to your liking.
Notes
Optional stir-ins: Shredded cheese and salsa. Cheese if you want to thicken the beans. Salsa for thinning. 
If you aren't going to eat all of the beans, thin the beans out even more and store in the freezer until you need more. They thicken when you defrost and reheat them.
This month we've taken on a challenge – one that involves blogging through the alphabet. #AtoZChallenge
Did you miss a letter? Catch up now.