We finally were able to get around to making this recipe for the first time. Again, this is an combination of a few pot roast recipes found in the Fix-It and Forget-It Cookbook
.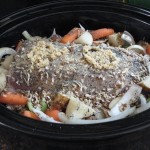 Print Recipe
Pot Roast
Ingredients
3-4

lb

chuck roast

2

tbsp

oil

optional for browning the roast

4

medium

potatoes

cubed

1

lb

baby carrots

2

celery rib

1

onion

sliced

2

cloves

garlic

minced

1

oz

dry onion soup mix

1

tsp

salt

1/2

tsp

pepper

1

tsp

season all

1

tsp

garlic powder

1/2

cup

water
Instructions
Brown roast in oil in skillet.

Put potatoes, and carrots in bottom of slow cooker.

Place roast on top of veggies.

Put onion and celery around the meat.

Sprinkle roast and veggies with spices

Place minced garlic on roast.

Pour water on veggies.

Cover and cook on low 10-12 hours.
Notes
Prepare Ahead: Clean and cut produce. Place carrots and potatoes in a container. Place onion, and celery in a different container. If leaving in the fridge overnight, cover the produce with water and drain before placing in the slow cooker. If freezing, use ziploc bags and remove as much air as possible before placing in the freezer. Thaw before placing in the slow cooker.
Weekly Menu
Today/Monday
(D) Tacos (shredded beef), refried beans
(L) Salad, baked potato
Tue 3/15
(D) Sour Cream and Green Chili Chicken Enchiladas, spanish rice
(L) Salad, Bread
Wed 3/16
(D) Steak fingers (new recipe), coleslaw, fries
(L) Leftovers
Thu 3/17
(D) Chicken flautas, refried beans
(L) Super nachos
Fri 3/18
(D) Pasta, Bread
(L) Super nachos
Sat 3/19
(D) Orange chicken (new recipe), Rice, pot stickers
(L) Leftovers
Sun 3/20
(D) Waffles, Bacon
(L) Chicken strips, ranch fries
This post is linked at Menu Plan Monday and Mouthwatering Monday.