This month we've taken on a challenge – one that involves blogging through the alphabet. Did you miss a letter? Catch up now.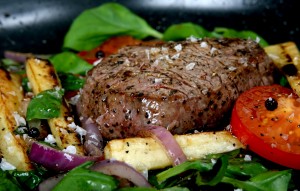 We love steaks and stock up when they go on sale.
We prefer are steaks cooked on an good old fashioned charcoal barbeque but we have found a great way to cook out steaks in the house utilizing both the stove top and broiler.
Here's some of our favorite recipes that feature steak.
What are your favorite steak dishes? Do you use a thermometer
to determine if your steak is done?